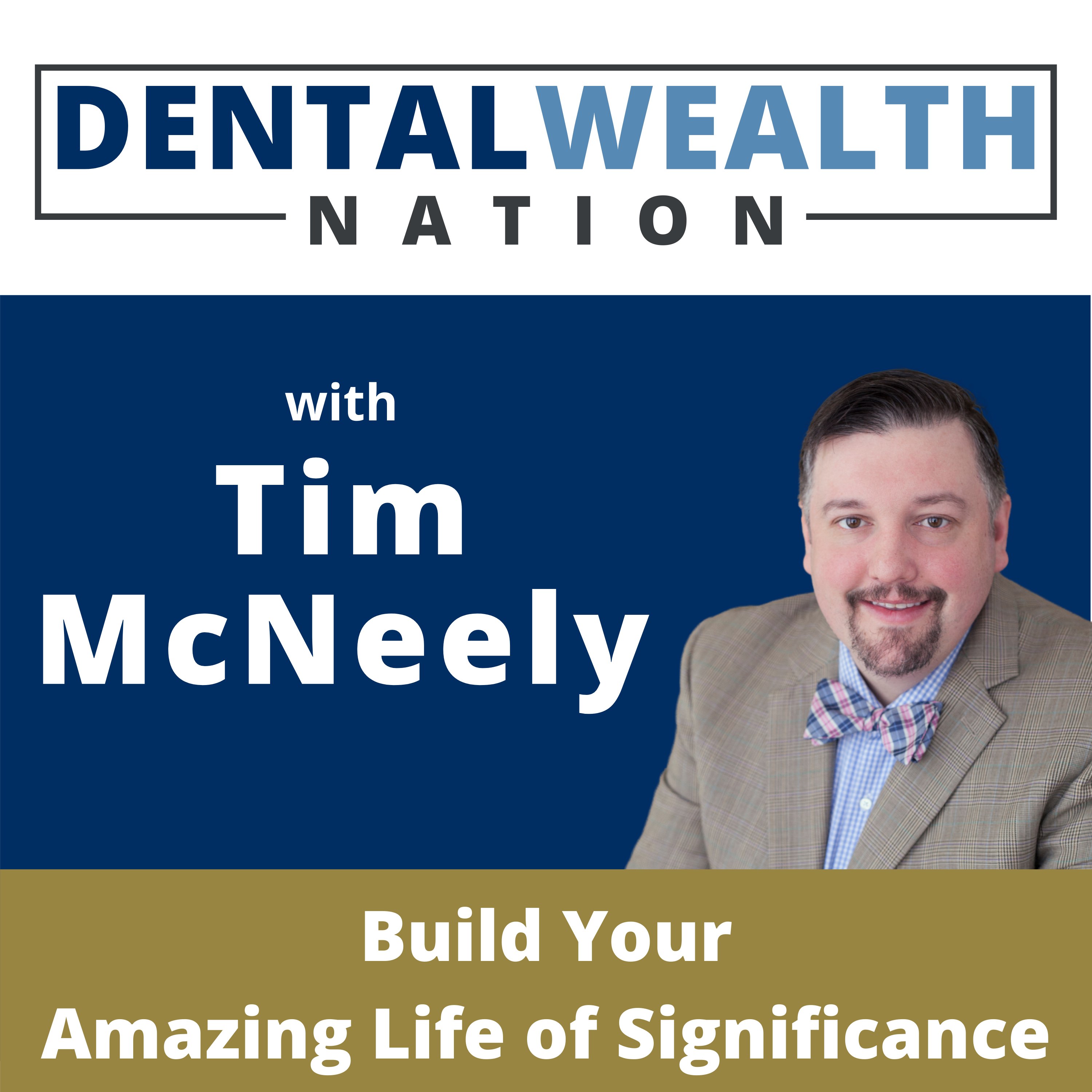 The Dental Wealth Nation Show is a dynamic and engaging show hosted by Tim McNeely, a best-selling author and elite wealth manager who specializes in helping entrepreneurial dentists decrease taxes, increase impact, and thrive in their practices. With his extensive knowledge and expertise, Tim McNeely is renowned for assisting dentists in building true wealth faster and with less effort than they ever thought possible.
Episodes
Monday Feb 13, 2023
Description
🎙️ Looking to build a successful dental practice? Welcome to The Dental Wealth Nation Show! 🦷💼 
In this episode, join us as we discuss the simplified process to realize your vision with dental architecture expert, Mohsen Ghoreishi. 💡✨
Covering topics like budgeting, vision alignment, and the importance of a well-designed physical environment, this episode is packed with valuable insights for dental professionals. 🏢💸
Discover how to determine a realistic budget, differentiate between must-haves and nice-to-haves, and ensure your office reflects your unique identity and the patient experience you want to provide. 🎯👥
We also delve into the challenges faced by doctors in the dental industry, from building intimate client relationships to attracting top talent. 🤝🌟
Whether you're just starting out or looking to revamp your practice, join us on The Dental Wealth Nation Show as we explore the journey from dental dreams to lasting success. 🎉💼🦷
Key topics: dental practice, budgeting, vision alignment, dental architecture, physical environment, patient experience, dental industry challenges, building client relationships, attracting top talent, dental dreams, lasting success.


💡 Speaker bio
Mohsen Ghoreishi, a man deeply connected to his Persian heritage, is the embodiment of integrity and reliability. Inspired by the deep-rooted meaning of the word "Cohen" in Farsi, he chose this name for his firm as it represents his vision for the present and future. With a rich understanding of the ancient culture and traditions, Mohsen aims to create a lasting impact by providing meaningful and valuable services to his clients. He believes in the importance of upholding timeless values and ensuring that his work remains valid and impactful throughout the ages. Mohsen Ghoreishi is committed to making a lasting difference in his field, guided by his unwavering belief in the power of integrity and everlastingness.
🧞‍♂️ Discussion questions
1. What are some factors to consider when determining a realistic budget for a dental practice?
2. How can an architect help in creating a vision for the patient experience in a dental office?
3. Why is it important for a dentist to have a clear vision for their business?
4. Can you share an example of a client who didn't consider long-term implications when it came to their office size? What were the consequences?
5. What are the necessary professionals and advisors that a dentist should work with when starting a practice?
6. How can renovating a dental practice space, even without major changes, improve the overall environment?
7. What are the key issues to consider when buying an existing dental practice?
8. What factors should be taken into account when selecting an architect for a dental project?
9. How does having an attractive physical environment impact a dental practice in terms of attracting new patients and professionals?
10. How does a dentist's vision impact other aspects of their practice, such as cost and time?

🎞️ Clip finder: Quotes, hooks, and timestamps

The Joy of Dental Design: "Because it is new every time, it is joyful. And, the amount of care the doctors have on patient experience is amazing."
— Mohsen Ghoreishi [00:06:26 → 00:06:31]
The Importance of Architects in Dental Practice Design: "what an architect does, the architect, takes this suite, takes the shell, the space, or built the environment, and it's really vision where when you walk in, you can capture the patient experience without, without an architect, you can't do then everything becomes quite a bit of cookie cutter because everything is designed on a flat plane. You have to think be able to think three dimensionally. and of course, be if you're a talented architect, then you can put parts and pieces together where the look looks good, and it is the vision of the dentist or the provider. the vision is a big deal that the architect can bring to life."
— Mohsen Ghoreishi [00:09:17 → 00:10:00]
The Importance of Vision: "Vision is a big deal and it's important because it impacts other things. it impacts dollars. It impacts time. that's that's why vision is very important."
— Mohsen Ghoreishi [00:12:33 → 00:12:47]
The Importance of Having a Clear Vision: "vision has 2 parts. So one is you're starting to practice and what is it? How do you see yourself in 5, 10, 15 years from today?"
— Mohsen Ghoreishi [00:13:44 → 00:13:53]
Budgeting for a Dental Practice: "You don't have to build a Taj Mahal to have a beautiful office. You could really have a simple, beautiful building with a low budget, but you have to know what it takes to have that."
— Mohsen Ghoreishi [00:19:05 → 00:19:13]
Building Your Dental Practice: "Your dental architect becomes one of the most important people that you can talk to and to basically help you bring the team together."
— Mohsen Ghoreishi [00:27:19 → 00:27:28]
The Importance of a Unique Office: "Well, it only matters if the doctor is really it's important for doctor to have a office which portrays himself and talks about who the doctor is, what kind of services he what kind of patient experience he or she wants to give to their patients. If that is important to them, if they are, they want to be unique, then that should matter, and they need to look for that."
— Mohsen Ghoreishi [00:32:00 → 00:32:28]
Renovating Your Practice: "You could simply refresh, like you said, change the carpet, put a new coat of paint, maybe change couple of, you know, various different decorative lights, and bring a whole new life to the space."
— Mohsen Ghoreishi [00:42:54 → 00:43:06]
Choosing an Architect: "You may wanna talk to some of the clients they've had to see the process, to see if how was the process from the beginning to end and how the architect or an institution treated you and worked with you from the 0 to occupancy."
— Mohsen Ghoreishi [00:46:05 → 00:46:22]
The Importance of a Welcoming Physical Environment in Dental Practices: "If you have a state of the art technology, if you have a beautiful environment, you will attract some of the best dentists to come over and become your associates. Those are the ones that actually can eventually take over the practice."
— Mohsen Ghoreishi [00:51:12 → 00:51:23]