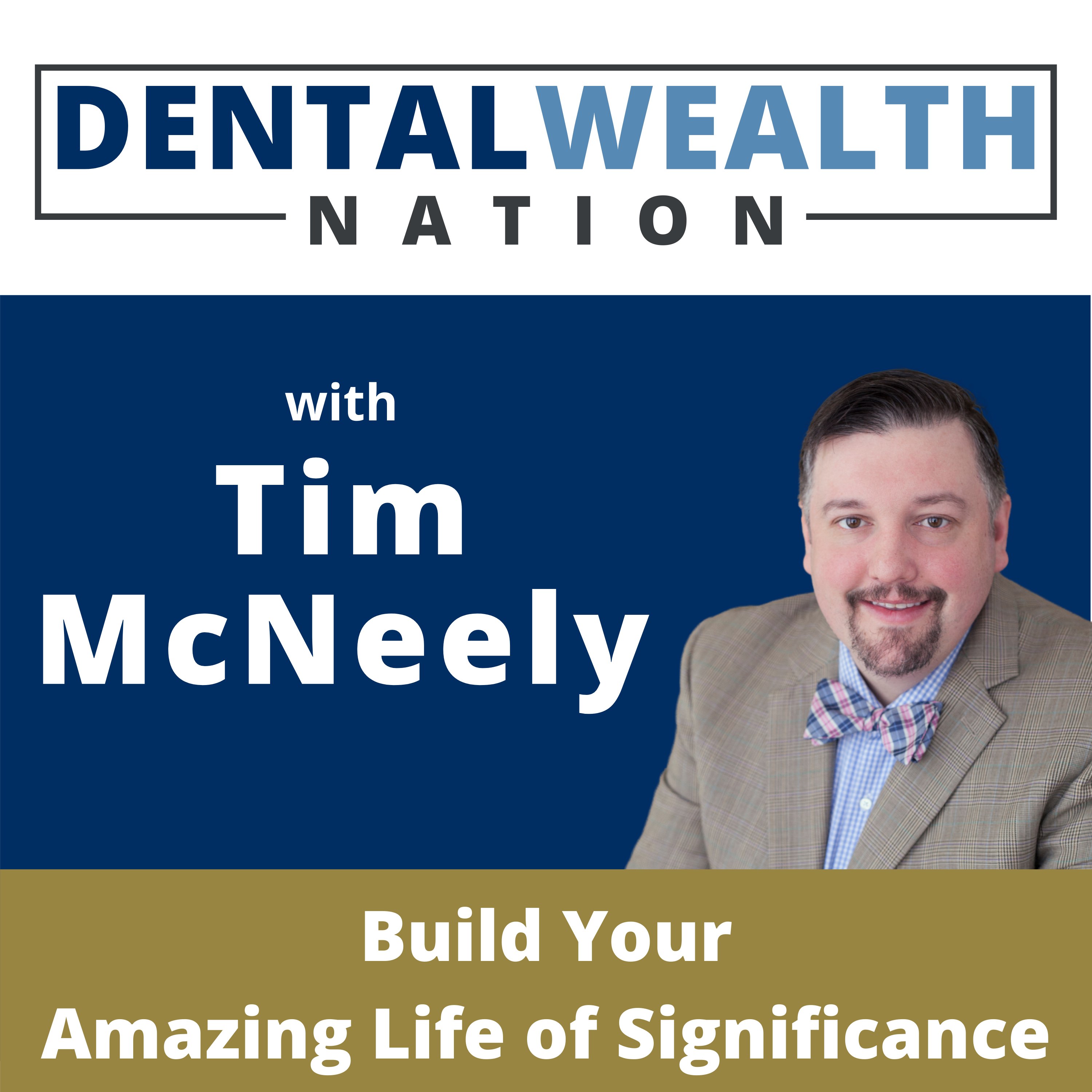 The Dental Wealth Nation Show is a dynamic and engaging show hosted by Tim McNeely, a best-selling author and elite wealth manager who specializes in helping entrepreneurial dentists decrease taxes, increase impact, and thrive in their practices. With his extensive knowledge and expertise, Tim McNeely is renowned for assisting dentists in building true wealth faster and with less effort than they ever thought possible.
Episodes
Tuesday Aug 01, 2023
Welcome to Dental Wealth Nation, your go-to show for transforming your dental practice and enhancing patient care. In this enlightening episode, we delve into the fascinating realm of IV sedation and sleep dentistry, guided by the expertise of Dr. William Moorhead.
Discover the immediate strategies that can revolutionize your practice, making it more accessible to fearful and non-scheduling patients. Dr. Moorhead imparts his extensive knowledge on sedation dentistry, offering invaluable insights that can redefine your approach to patient care. Learn about the advantages and challenges of IV sedation, its cost-effectiveness, and predictability in dental procedures.
This episode also explores how IV sedation can alleviate dental fears, creating a more comfortable patient experience. We discuss the potential of billing IV sedation to medical insurance, and how patients can utilize their insurance benefits for necessary dental work.
Dr. Moorhead sheds light on the lasting impact of negative childhood dental experiences and shares empathetic techniques to improve patient comfort. His strategies aim to enhance patient experiences while boosting your practice's financial health.
We also delve into the role of oral conscious sedation and its evolution in dentistry. Dr. Moorhead emphasizes the importance of applying shared knowledge to increase your practice's net worth, offering specialized advice typically unavailable to dentists.
In this episode, we introduce Nucom, a valuable tool for managing fearful patients, even without IV sedation. This safe and effective product can be used with nitrous oxide and is especially useful for handling difficult patients.
Join us on Dental Wealth Nation as we unearth hidden strategies used by successful dental professionals. Take action to improve your practice, increase patient satisfaction, and enhance your wealth in all aspects of dentistry.
If you have any questions or need further information about Nucom or related topics, feel free to reach out to us via email. Remember to like, comment, and subscribe for more insightful episodes. Together, let's revolutionize your dental practice and seize the wealth of opportunities that await!
Wednesday Jan 20, 2021
🎙️ Exciting News! 🎙️
I am thrilled to announce a new episode of The Dental Wealth Nation Show featuring an incredible guest, Karen Duncum! Join me, Tim McNeely, as Karen shares her wisdom on how to live vibrantly every day.
In this episode, Karen Duncum, a former COO turned coach and trainer, reveals her secrets to living a vibrant and meaningful life. She believes that we all have the power to create positive change and build an amazing life of significance. Here are three key takeaways from our conversation:
1️⃣ Develop new neural pathways: Karen emphasizes the importance of training our minds to focus on the positive instead of the negative. By consciously choosing to think positively and practice gratitude, we can rewire our brains to seek joy and abundance in every aspect of life.
2️⃣ Start with happiness: Living a vibrant life begins with prioritizing happiness. Karen encourages everyone to identify activities that bring them joy and make time for them. It could be something as simple as reading a book, spending quality time with loved ones, or pursuing a hobby. By nurturing our own happiness, we can radiate positivity and inspire others.
3️⃣ Eight basic habits for vibrancy: Karen shares a simple roadmap consisting of eight basic habits to live vibrantly. These habits include practicing gratitude, staying present, nurturing relationships, taking care of our physical health, continuous learning, pursuing our passions, giving back, and avoiding excessive news consumption. By incorporating these habits into our daily lives, we can experience increased joy, purpose, and fulfillment.
The Dental Wealth Nation Show is dedicated to providing actionable strategies and expert insights to dentists, entrepreneurs, and business owners seeking to create wealth and live a vibrant life. If you're looking for practical ways to enhance your mindset and overall well-being, this episode is a must-listen!
Stay tuned for future episodes of The Dental Wealth Nation Show, where we will continue to bring you valuable tips, insider knowledge, and inspiring stories.
Remember, dental wealth is more than just financial success – it's about living vibrantly and making a lasting impact. Let's make each day count!
#TheDentalWealthNationShow #LivingVibrantly #FamilyOfficeSecrets #Podcast #BusinessSuccess #EntrepreneurLife #DentistLife #WealthBuilding #Inspiration #PositiveMindset