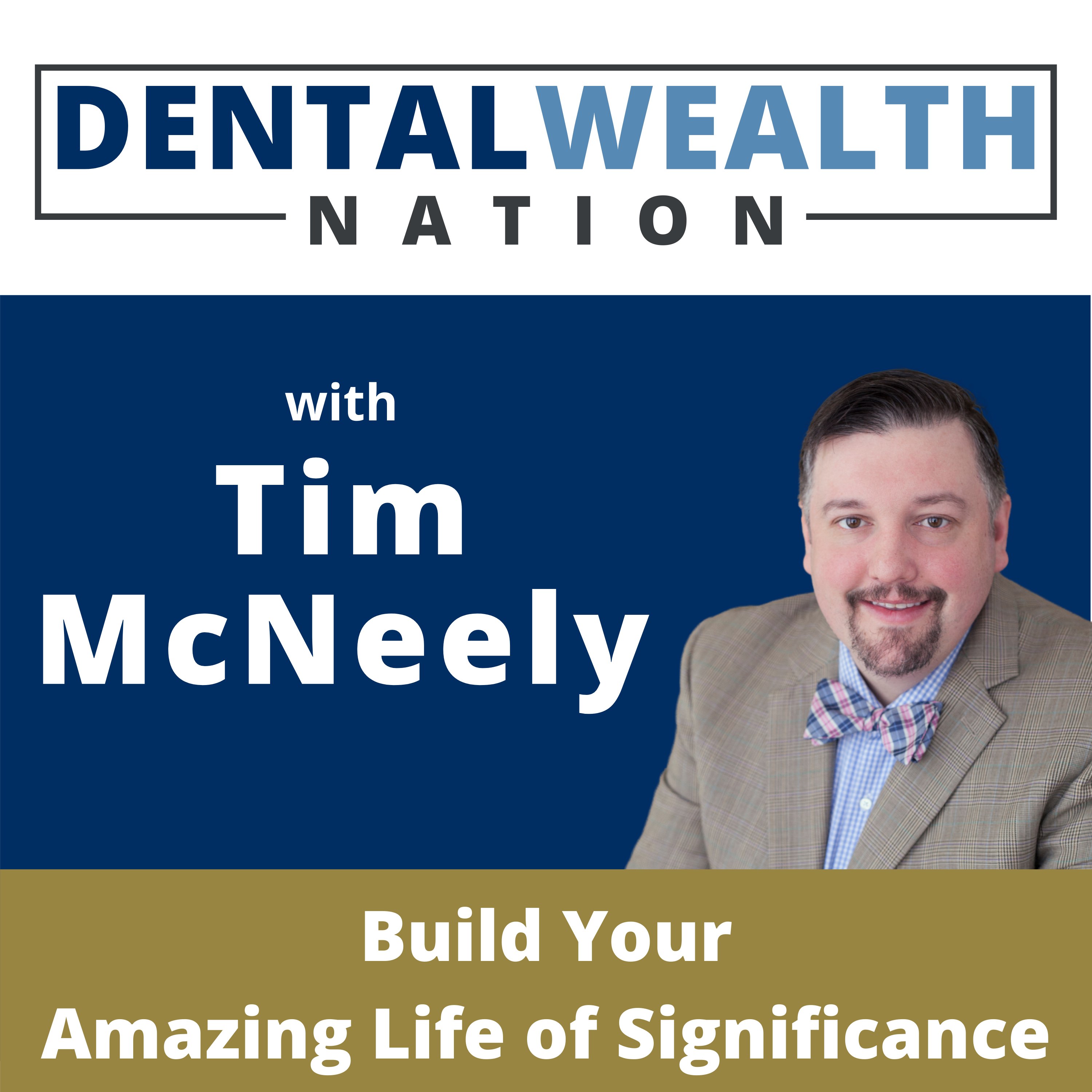 The Dental Wealth Nation Show is a dynamic and engaging show hosted by Tim McNeely, a best-selling author and elite wealth manager who specializes in helping entrepreneurial dentists decrease taxes, increase impact, and thrive in their practices. With his extensive knowledge and expertise, Tim McNeely is renowned for assisting dentists in building true wealth faster and with less effort than they ever thought possible.
Episodes
Wednesday Sep 20, 2023
🎙️ Welcome to The Dental Wealth Nation Show with Chad Widensky! In this episode, we dive into "How to Provide Impeccable Service While Maintaining Your Bottom Line." 🦷💰
Join our host, Tim McNeely, as he sits down with Chad Widensky, a financial expert and founder of a leading dental finance company. Discover the secrets to finding great lenders and underwriters in the dental industry and how they can help you navigate the process of buying or expanding your dental practice. 💼
Chad emphasizes the importance of working with industry-focused professionals who have access to a network of contractors, attorneys, and other necessary individuals. 🤝💼
Explore a holistic approach to banking, including mortgage options and other services that can evolve with your personal needs as your net worth increases. 💼💰
🔍 Dive into the world of dental banking and learn about high-yield savings accounts, credit card processing, and the exclusive Provide Card that offers cashback rewards for your supply and lab purchases.
Discover the crucial factors to consider when applying for loans and mortgages, such as understanding the loan terms, the speed of communication with underwriters, and the importance of timing to seize financial opportunities. 💸💼
Learn from success stories of doctors who have partnered with the right lenders, allowing them to expand their practices, own multiple offices, and focus on the business side of dentistry. 🎯📈
🔎 Stay ahead of the curve in the evolving dental industry by tapping into the expertise of industry veterans, finding the best reps and consultants, and ensuring you get the right fees. 
Whether you're a dental practice owner, looking to start your own practice, or interested in the business side of dentistry, this episode provides valuable insights and resources to help you achieve your practice ownership goals. 🎧🏢
Tune in now to The Dental Wealth Nation Show and tap into the wealth of knowledge and resources to take your dental practice to new heights! 🎙️✨
Questions:

1. How important is it for dentists to work with lenders and underwriters who have experience in the dental industry?
2. What are the benefits of working with a lender who can provide access to a network of industry professionals such as dental attorneys and experienced brokers?
3. How can working with a banking partner who understands the time constraints of doctors improve the process of buying a practice or starting/expanding a dental office?
4. In what ways can a comprehensive banking package, including mortgage options and other services, benefit dentists as their net worth increases and their personal needs evolve?
5. What factors should dentists consider when choosing a lender or banking partner for their practice, beyond just the terms of the loan itself?
6. How can credit cards with specific benefits for certain professions, such as the Provide Card mentioned in the episode, help lower expenses and increase savings for dental professionals?
7. What questions should dentists ask lenders regarding the application process, required documentation, and the speed of communication with the underwriter?
8. How does the efficiency of closing loans impact the financial opportunities and income potential for dentists?
9. What role does networking and recommendations from other doctors play in the decision-making process when choosing a lender or banking partner?
10. How can working with a banking partner who offers additional services, such as assistance with insurance, finding consultants, and ensuring proper fees, contribute to the success and enjoyment of practice ownership for dentists?