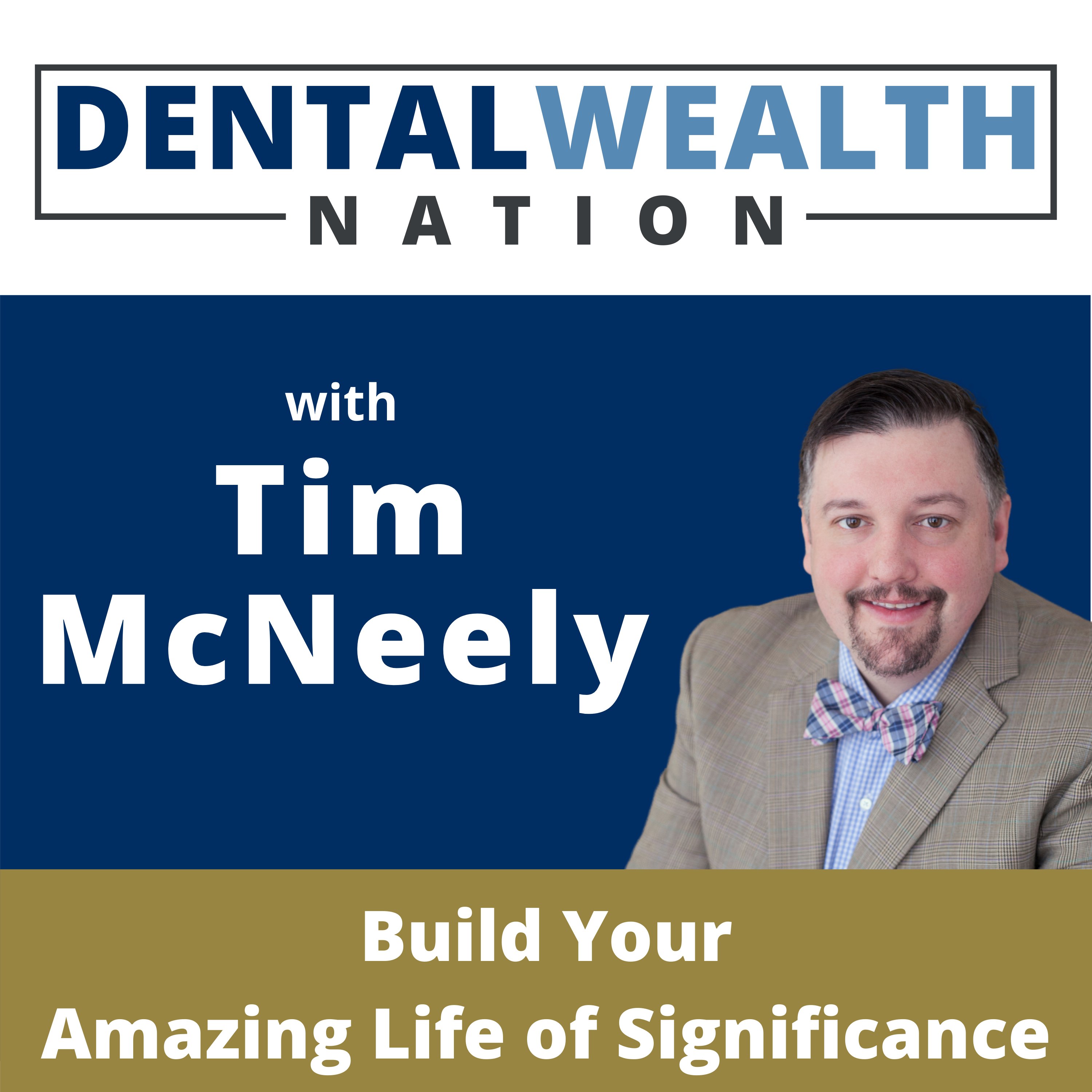 The Dental Wealth Nation Show is a dynamic and engaging show hosted by Tim McNeely, a best-selling author and elite wealth manager who specializes in helping entrepreneurial dentists decrease taxes, increase impact, and thrive in their practices. With his extensive knowledge and expertise, Tim McNeely is renowned for assisting dentists in building true wealth faster and with less effort than they ever thought possible.
Episodes
Thursday Nov 02, 2023
🎧🦷 Welcome to The Dental Wealth Nation Show! 🎉💰
In this episode, titled "The Opportunity I Wish I Had Recognized 15 Years Ago," join our host, Tim McNeely, as he welcomes David Whitlock to discuss the hidden gem of rural dentistry. 🌾🏥
🌟 Discover why more and more dentists are considering practicing in small towns, where the cost of living is lower and the quality of life is higher. 💼💤
💡 Dave Whitlock, with his vast experience in dentistry in different settings and states, shares his personal journey from the hustle and bustle of big cities to the peaceful yet fruitful world of rural dentistry. 🌆🍎
📚 He unveils the financial advantages, the sense of community, and the work-life balance that await dentists who choose rural opportunities. 🙌💼
🌟 Listen as he recounts stories of dentists who found their calling in rural areas, thanks to his guidance and the website he launched, ruralpractices.com. 🌐📲
😩🥵 Gone are the days of burnout and the rat race of running a practice. Discover the benefits of embracing a slower pace and a closer connection with patients and the community. 🤝🏠
🌟 Tune in as Tim McNeely and David Whitlock delve into the joys and challenges of rural dentistry, dispelling common misconceptions and exploring the financial rewards and patient satisfaction that come with practicing in small towns. 💰👩‍⚕️
🎉 Don't miss out on this eye-opening episode of The Dental Wealth Nation Show, where we empower dentists to build true wealth and find the fulfillment they deserve. 🎧💪
🔎 Keywords: dental wealth, rural dentistry, small towns, quality of life, work-life balance, lower cost of living, financial benefits, community involvement, patient satisfaction, avoid burnout, dentist empowerment.

❓ Questions:

1. Have you ever considered practicing dentistry in a rural area? If not, what were some of the reasons that held you back?
2. What factors do you think contribute to burnout in dentistry, especially in heavily populated areas?
3. How important do you think work-life balance is for dentists? In what ways do you prioritize this in your own practice?
4. Do you believe that the financial benefits of practicing in a rural area outweigh the potential drawbacks? Why or why not?
5. Have you ever experienced challenges with marketing and attracting patients in your practice? How do you overcome these challenges?
6. How important do you think community involvement and sponsorship are for dentists in a rural area? Do you actively engage with your local community?
7. What are some potential misconceptions about rural dentistry that you have encountered in your career? How have you addressed these misconceptions?
8. Do you agree with David Whitlock's perspective on the dental industry and the increased student debt burden for new graduates? How do you think this impacts the future of dentistry?
9. If you were to start your dental career over again, would you consider exploring a rural opportunity? Why or why not?
10. How would you define "wealth" in dentistry? Do you believe that financial success is the most important measure of wealth, or are there other factors to consider?