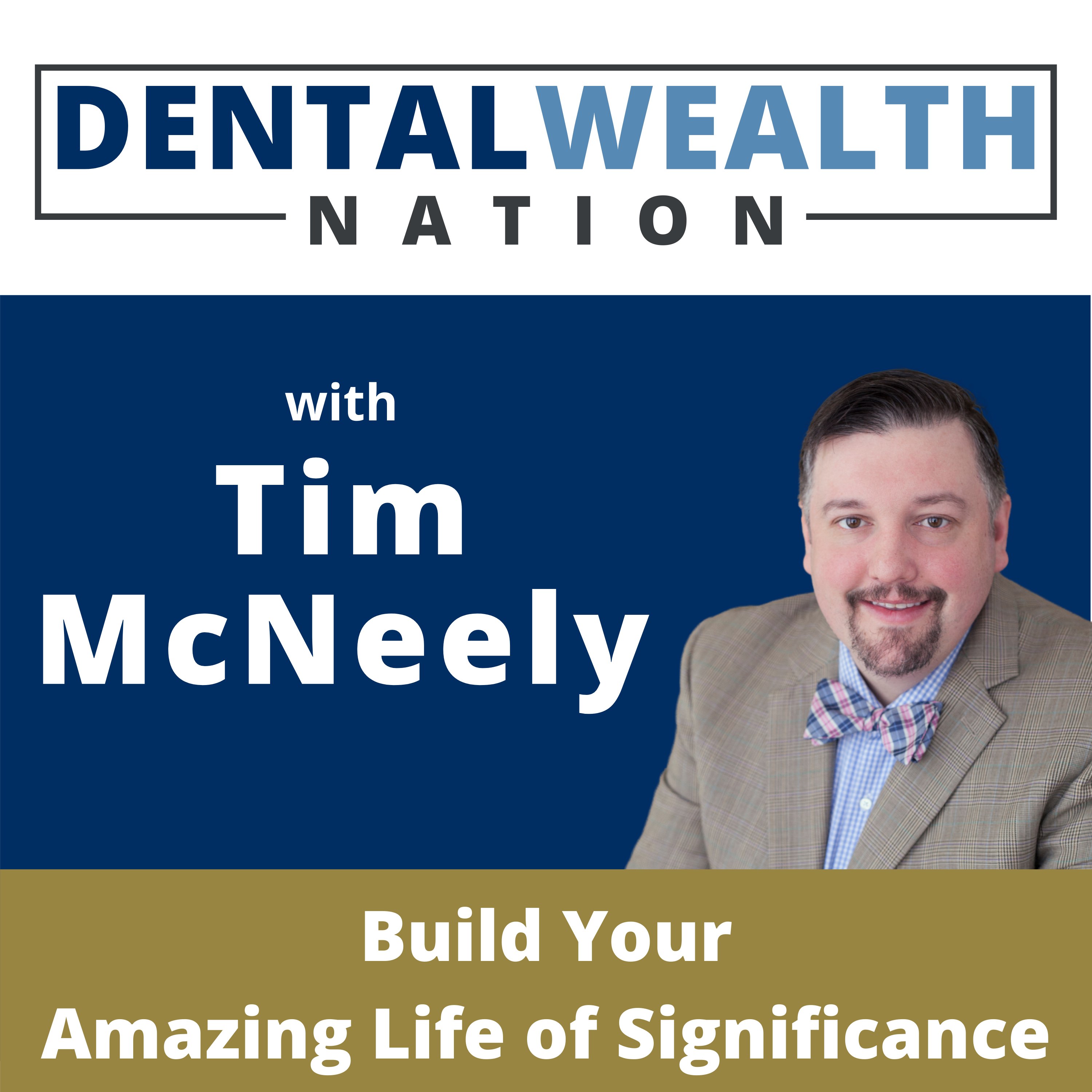 The Dental Wealth Nation Show is a dynamic and engaging show hosted by Tim McNeely, a best-selling author and elite wealth manager who specializes in helping entrepreneurial dentists decrease taxes, increase impact, and thrive in their practices. With his extensive knowledge and expertise, Tim McNeely is renowned for assisting dentists in building true wealth faster and with less effort than they ever thought possible.
Episodes
Thursday Aug 24, 2023
🦷📈 The Dental Wealth Nation Show: Elevating Patient Care and Practice Synergy 🎙️💰
Join us as we dive into the world of dentistry with our host Tim McNeely and special guest Ella Mullokandova! 🎧 In this episode, we explore the importance of elevating patient care and practice synergy to achieve success in the dental industry. 📈
Discover the "maturity model" 🏆 and why it's crucial for the growth and health of your dental practice! 🌟🦷 Explore the different levels, from chaos to improvement, and learn how to transform your practice step-by-step. 📋
We'll discuss strategies for optimizing the patient life cycle 🔄, enhancing customer experience, and turning lifelong customers into brand ambassadors who refer others. 😃🗣️ Explore the key touch points and learn how to measure success to ensure a seamless patient experience at every stage. ⭐
Ella shares valuable insights on creating strong team synergy and the importance of a restorative dental partnership. 💪💯 Discover how trust-based relationships and a united team can lead to exceptional customer experiences and higher revenue potential! 💵
The conversation also covers the importance of having a clear vision for your practice, partnering with experts, and the impact of effective marketing strategies. 💡🤝📣
Whether you're a dentist, dental professional, or dental enthusiast, this episode of The Dental Wealth Nation Show will provide you with actionable tips, inspiring stories, and expert guidance to help you take your practice to the next level! 😁🎉
💡 Speaker bio


Ella Mullokandova is a dedicated dental hygienist with over 20 years of experience in the field. Throughout her career, she has developed a deep passion for both the science behind dentistry and the opportunity to help people improve their oral health. Recognizing the disconnect and challenges faced by dental professionals, Ella co-founded Converge Dental, a company aimed at simplifying and streamlining practice operations.
Having worked closely with doctors to build successful practices, Ella understands the burden and burnout experienced by both practitioners and their team members. With Converge Dental, she seeks to alleviate these challenges by providing comprehensive solutions that allow doctors to focus on their true passion, dentistry. By taking care of practice management and team leadership, Converge Dental empowers doctors to create thriving practices that prioritize patient care.
Ella Mullokandova's expertise and dedication to improving the dental profession make her a valuable asset in the field. Her efforts with Converge Dental demonstrate her commitment to making a positive impact on dental practices worldwide.

🧞‍♂️ Discussion questions
1. How can implementing the maturity model help improve the health of a dental practice?
2. What are the key steps in the practice transformation process outlined in the episode? 
3. How can understanding the patient life cycle and optimizing touch points improve patient experience and retention? 
4. How can leaders effectively communicate the vision, mission, and core values of a dental practice to their team? 
5. What roles can personality tests play in understanding and empowering team members in a dental practice? 
6. What are the benefits of restorative dental partnerships, and how can they contribute to exceptional customer experience? 
7. How can broken systems or poor patient interactions lead to lost revenue potential in a dental practice? 
8. What strategies can dental practices employ to cultivate a strong team and positive patient experience? 
9. Why is it important for dental practices to have a clear vision and partner with the right experts to achieve success? 
10. How can dental practices educate patients about insurance coverage and encourage them to pay out of pocket for certain procedures?